TLN Qatar Exclusive Interview with Sheikh Ahmed Hamad Al Thani
23rd January 2022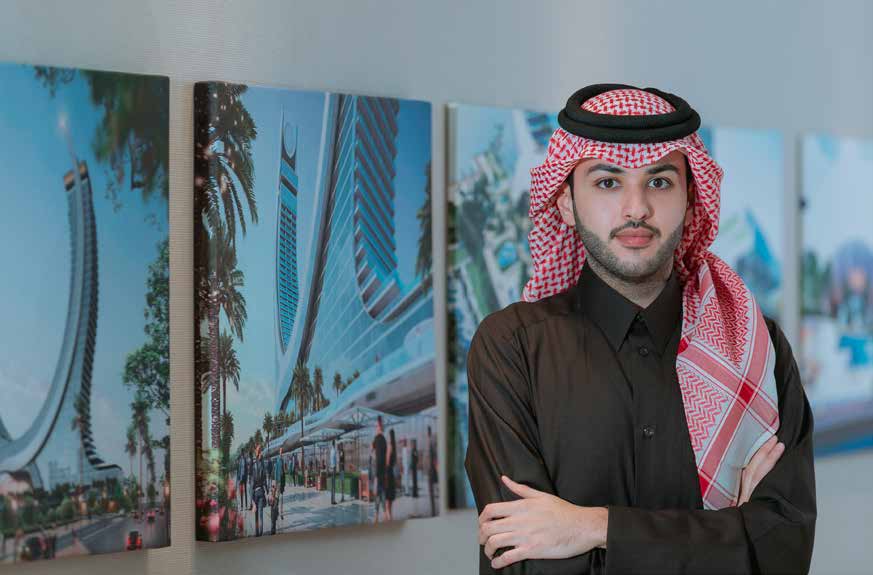 Katara Hospitality: Qatar on the World Map
Katara Hospitality is the leading entity that has shaped the hospitality landscape in the country and internationally. There is a tremendous responsibility resting on the shoulders of Sheikh Ahmed Hamad Al Thani but the young and ambitious manager is ready for the challenge.
With an established presence locally in Qatar and globally, Katara Hospitality has built a solid reputation and a strong network with first-class asset management, infrastructure operation and premium property development. Katara Hospitality's portfolio has grown to include 42 owned and/or managed hotels and the company is now focused on achieving its target of 60 hotels in its portfolio by 2030 aligned with Qatar's vision for economic development. With 50 years' experience in the industry, Katara Hospitality actively pursues its strategic expansion plans by investing in peerless hotels in Qatar while growing its collection of iconic properties in key international markets. While it partners with some of the finest hotel management companies, Katara Hospitality operates owned and non-owned hotels through its stand-alone operating arm, Bürgenstock Selection and Murwab Hotel Group.
The global hotel owner, developer and operator based in Qatar currently owns properties spread across four continents in Qatar, Egypt, Morocco, UK, France, Italy, Spain, Switzerland, Netherlands, Singapore, Thailand and United States of America.
Spearheading Katara Hospitality's asset portfolio, Sheikh Ahmed has clearly demonstrated a real commitment to his company, to the state of Qatar and its vision for growth.
The Luxury Network Qatar exclusively talks to Sheikh Ahmed Hamad Al Thani about Katara Hospitality's focus and his vision for his country reaching new heights.
Sheikh Ahmed, tell us about your professional journey and how did you join Katara Hospitality?
I've always been fascinated by the world of hospitality. Our Arabic culture and heritage are embedded with true hospitality, it is the passion that brings me to Katara Hospitality. The feelings of delivering smiles, celebrating occasions, and cherishing memories. I think it is the core reason I look forward to our day-to-day operations.
I started in the field of our heritage, the Sheraton Grand Hotel Doha, then decided to move on to the corporate office to manage and monitor on a broader level. This gave me a clear understanding of what the career of hospitality entails, and I look forward to offering and learning from the hospitality industry. I think it is very important to know that the cultural aspect of this country derives from the hospitality sector that we have and are currently building. On a day-to-day basis, we are extremely hospitable in this country, it does come from our culture as well, so I believe it is only fit for me to be in this place.
What has been Katara Hospitality's main areas of focus in the last few years on the national and international level?
Katara Hospitality is one of the leading hospitality companies, in the region and the world for the past 10 years. Acquiring, building, and managing substantial assets locally and globally. The company's vision veers towards the acquisition of hotels and well-known landmark properties. They are also known as the crown jewels of the world. We currently have under our umbrella the most prominent hotels on a worldwide spectrum inclusive of the Plaza Hotel in New York, the Raffles Hotel in Singapore, the upcoming Lusail Twin Towers in Qatar, the Peninsula in Paris and the Savoy London to name a few. This just emphasizes the importance of hospitality in the region or on an international scale.
How do you assess the evolution of Qatar's hospitality sector over the last years/decade?
The hospitality sector plays a major role in the country with numbers reflecting the subject at hand. As a company we started with one asset which was the Gulf Hotel Doha back in 1980. We currently hold a portfolio of 42 different assets worldwide which just epitomizes the growth, development, commitment, and the company's vision.
What has been the main milestones and areas of activity of Katara Hospitality in recent years?
Our achievement is that we are ever-growing in the hospitality spectrum. I believe the past 25 years will be reflected in the next 10 years. Hopefully, by 2030 we will be twice the scale we are currently at.
What initiatives do you have for supporting QNV 2030 objectives for a diversified economy?
Our initiative on a regional basis is to create a touristic hub or a holiday destination for the country. I believe the QNV's 2030 vision is to put Qatar on the map which calls for more hotels and more options.
Katara hospitality's vision compliments that in implementing new hotels, resorts, and creating a touristic experience. A funny but heart-warming story, for me as a Qatari, as we were always known as the country next to Dubai. We have put ourselves out there and now a lot of Middle Eastern countries are referred as next to Qatar. This shift in focus wouldn't have been possible without the effort, investments and strategies put in place. I am very proud that we have got to that point. By 2030, we are aiming to have 60 hotels in our portfolio which are currently in the build-up process.
Tell us a bit more about Katara Hospitality's activity as developers, operators and asset management?
Katara hospitality is a multi-faceted company with different sectors. One being development, case in point, the Lusail Twin Towers or the Tazi Palace in Morocco, owners, operators, and asset managers on a corporate level. What I really value within the company is that we are successfully juggling four sectors under one roof. The Qetaifan Islands is also a project coming up with various assets, classic hospitality, houses and floating hotels.
The Murwab group is an inhouse operation that currently has four operational hotels and an extra two are in the pipeline. That will hopefully be operational by the end of 2022, so we do have a very busy year ahead.
For Katara Hospitality, when we invest outside of Qatar, we don't only acquire the assets of the properties, we invest in the economy, create jobs, work with local vendors and suppliers. We have a long commitment in any destination.
The Raffles Singapore and The Plaza New York are iconic assets that carry a lot of heritage and weight to their respective communities. As a foreign entity, when owning an asset like that you need to show the same commitment to express that kind of trust in the local community.
On par with Tazi Palace, in the north of Morocco, all the materials used will be provided by local suppliers and artisans. In Switzerland, we created over 2500 jobs, which is significant to the development of the community. This is the kind of commitment that Katara Hospitality and the state of Qatar has towards their investments.
Can you tell us a bit more about Murwab Hotel Group as part of Katara Hospitality?
Murwab Hotel Group which is fairly new is in the process of becoming a renowned name in the industry with the likes of Marriot or Hilton group who have been around for 200 years. The introduction of these international brands in the region has taught us how to apply it to our hotels using our identity and values. The most famous one is the Sealine resort which is run by us under the Murwab group. The new Twin Towers in Lusail are positioning itself as one of the crown jewels for Katara Hospitality and a future landmark in Qatar.
Tell us how this project came about?
We started this project by asking ourselves a few questions: How do we think outside of the box? What will set us apart as a company? The answers to these questions are reflected through the Twin Towers of Lusail. This has been the most important development for the country and for us as a company.
From its inception to its spectacular location and design, everything just came together. This project has won awards for its architectural prowess, design and engineering.
The inspiration is a reflection of Qatars emblem with the two swords and it has developed into this larger-than-life property that will contribute to Qatar's history. Taking something ordinary and making it extraordinary. It is our perseverance and persistence to create something different, unique, and ultimately iconic that the country will forever remember.
How does Katara Hospitality stand out in a highly competitive market?
Being in the industry for 50 years has brought us to a point where we are very different from any hospitality group. We built a country from the ground up. Having experience in the hospitality field we know what the hospitality industry will look like in 5, 10, 20 years from now.
We have a very strong and skilled team working in different segments as developers. Our full-fledged team is composed of invested Qataris, expats and experts in their own sectors. We have a dedicated, knowledgeable young generation of executives and managers who have been in the industry and exposed to the field leading this company which I am very proud to be a part of. Our experience, expertise and professional team is our greatest asset.
How does your expertise in asset management come into play within Katara Hospitality?
I've been fortunate enough to be on both sides of the spectrum as a customer and an owner, giving me a 360-view coming from a background that is extremely business savvy. In our part of the world, we are exposed to business dealings from a very young age having always sat around our elders in the majlis. It has changed over the last couple of years to a place of discussion. Mainly work related from a business acquisition, analysing market shifts, discussing strategies. Being involved in my family's businesses from an early age has given me the exposure that I needed, combined with my knowledge and expertise.
Being a curious person, I am still learning every day and enjoy stepping out of my comfort zone to improve myself on a daily basis.
You recently signed an agreement with Qatar Museums, tell us more about it?
I believe there is a convergence between culture and hospitality as they complement each other. You cannot mention hospitality without culture hence comes the relevance of our partnership with Qatar Museums.
We are a country and people who are appreciative of art, culture and I believe that as a host country, you cannot have a great hospitality without having a substantial cultural offer. When a person visit a country, they will plan a cultural program, visiting an art exhibition, a museum or a historical monument.
There has to be a bridge between what the country has to offer in terms of cultural attractions and hospitality options. Hospitality and culture is the strongest synergy that you can have.
With a strong portfolio of luxury brands such as The Savoy, The Peninsula and The Raffles what does luxury hospitality mean to you?
Luxury is one of the ethos of our company. It is the essence of the services that we provide. The acquisition of hotels around the world are amongst the most luxurious ones under one umbrella.
There's no elaboration needed when it comes to luxury because the hotels that we acquire speak for themselves. The Perfect location, outstanding service and elevated facilities are our hallmark. Our market here is very luxurious because people in Qatar enjoy good things. Expectations are very high, and we cater to those levels of high requisites. I remember someone saying that everyone in Qatar is a VIP therefore we focus on the attention to detail, the personalized and thoughtful relationships and the tailored and attentive experience in our human interactions.
On a larger spectrum, remembering the name, face, and guest preferences is pivotal. The small details that keep you in and bring you back to the same location for a better experience. The more you visit, the better the experience you have because we already know your preferences. In hospitality, I believe that the level of luxury that we offer in Qatar is even better than the luxury that is provided abroad and it makes me very proud.
The FIFA World Cup 2022 in Qatar has caused a major boom in investment. How is Katara Hospitality prepared to step up to the challenge?
The FIFA World Cup 2022 has definitely put Qatar on the map. The whole country is gearing up for the event and we are working towards making it the best. However, what is being done in terms of infrastructure has not only been done for the tournament, but it is also to implement Qatar NV 2030. With that being said, during the FIFA World Cup 2022, we expect an influx of fans from all walks of life. Katara Hospitality is playing an integrated role supporting the Supreme Committee with the accommodation needed working hand in hand with our partners like Marriot International, Accor and Hilton to organize the hospitality requirements for the country.
What are Katara Hospitality's expectations from such a major international sporting event?
This will shape the future of the region in hosting worldwide events like the FIFA World Cup making it a World Cup for the world to remember. We are also looking forward to post FIFA World Cup 2022 and hosting major regional events with international calibre without losing our identity and culture. This is a very big thing for us, for the Middle East and the Arab region. One of our biggest milestones, would be welcoming our guests at the Lusail Twin Towers for the FIFA World Cup 2022.
What is one piece of advice that you live by?
Always lead with confidence. I like to over-prepare, analyse risks, and have several options. I have been brought up in a way where I will always have to lead regardless of my surroundings and the circle, I am in. It started at a very young age, at school when I studied abroad in London. How can I lead by example? I was there not only to represent my name or my family but also my country. That kind of pressure leads me back the process of over-preparation, analysing risks and leading by example with confidence in my abilities and choices.
Who are your inspirations and what keeps you going?
There is a saying that goes: "Your fathers words do not make sense now, but life will teach you the meaning later on." There was so much that my dad said at the time that made no sense to me, but when life hits you, you tend to remember those words. Perspective from my father.
My father leads by example, and this is who I aspire to be, not by being a leader but learning from one another. I can learn from your experience as much as you learn from mine. That interaction in itself is very inspiring for me and hopefully for everyone.
What is your vision for your country and for your people?
I like to live in the now, but I am very optimistic. I am proud to say that I come from Qatar. We are a very small country, but we have made a big impact on the global scale. I am always amazed by the positive perception whenever I am abroad. We are going to teach the upcoming generation how to be this impactful and I am sure that in 20 years, technology and progress will be the best in Qatar and we'll be proud of our achievements.